Who wouldn't want to visit The Shire from The lord of the Rings series? This picturesque little town is full of trees, fields, and rolling hills…and lets not forget the adorable hobbit-sized homes in the hills! These folk lead a simple life and their parties are full of lively music and plenty of delicious food.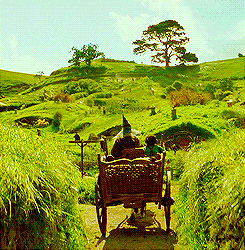 For fans of the Harry Potter series and those who fantasise about receiving their Hogwarts letters, having the chance to visit this amazing castle is an opportunity not to be missed. Why? Here's a small list of some of the things that Hogwarts has to boast: Grand architecture, an amazing lake, hidden rooms, The Great Hall, the Astronomy Tower, the Giant Squid, the Whomping Willow and so much more. Plus an opportunity to sneak into the Forbidden Forest if you are brave!
Whether you've only read the books/watched the show or both, it is hard to deny that Westeros (from A Song of Ice and Fire series by R. R. Martin) seems a pretty interesting place to visit. Seven kingdoms, castles and natural beauty, there is so much to explore in Westeros.
Yes, Faerieland (from The Shadowhunters Chronicles) is a pretty strange place and you wouldn't want to go wandering in alone. But if I could have the reassurance of finding my way back out, Faerieland is a pretty cool place to visit, with its strange magical landscapes and faeries.
This is a childhood favourite of mine from Redwall by Brian Jacques. There is something heartwarming about the loyal animals who live and work together in Redwall Abbey, fighting off the latest enemy. There is a sense of peace and tranquility within its walls and beautiful grounds, as well as the surrounding landscape.
Based off The Mists of Avalon by Marion Zimmer Bradley, Avalon is a mysterious island based on the Arthurian legend. This island is shrouded in magic and is supposedly where Arthur's sword Excalibur was forged.
This is the land where Howl's Moving Castle is set. Magic is the norm here, and it boasts quaint little shops, valleys, and a coastline. The perfect place to go on a literary adventure!
8. The land in The Wind in the Willows
Boat rides on a river on lovely sunny days. Picnics by riverbanks. How wonderful!
Top Ten Tuesdays is hosted by That Artsy Reader Girl
What places described in books would you like to visit? Comment below! 🙂